Distracted Driver Case Results in $120 Million Verdict
With the advent of more and more sophisticated mobile technology comes more and more cases of distracted drivers causing accidents. Laws against using devices while driving are only a deterrent that many ignore. Sadly, for Khail Parris' client, one of those people ignoring the law resulted in catastrophic injuries for him. As the defendant approached a stop sign, she was too busy on her mobile phone to notice the sign that stated that cross-traffic does not stop and proceeded forward, hitting Parris' client's truck and shearing off one of the front wheels. The truck flipped forward, then rolled multiple times. His client suffered terrible spinal injuries and a major TBI, both of which have caused an extreme loss of quality of life. He can no longer hold his grandchildren or engage in normal everyday activities, he is constantly in severe pain, and is looking towards a future of medical procedures just to function.
In a strange twist, the insurance company, rather than cooperating and attempting to take care of the damage their client caused, was found to be stalling and withholding key evidence to avoid handing over the cell phone records that would prove their client was driving while on the phone. Luckily, the law prevailed and this company was taken to task for their client's, and their own, wrongdoing, to the tune of $120 million.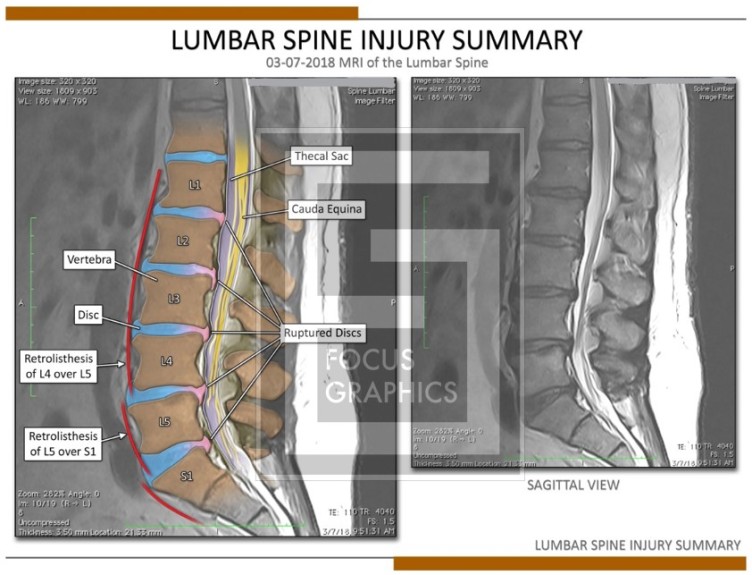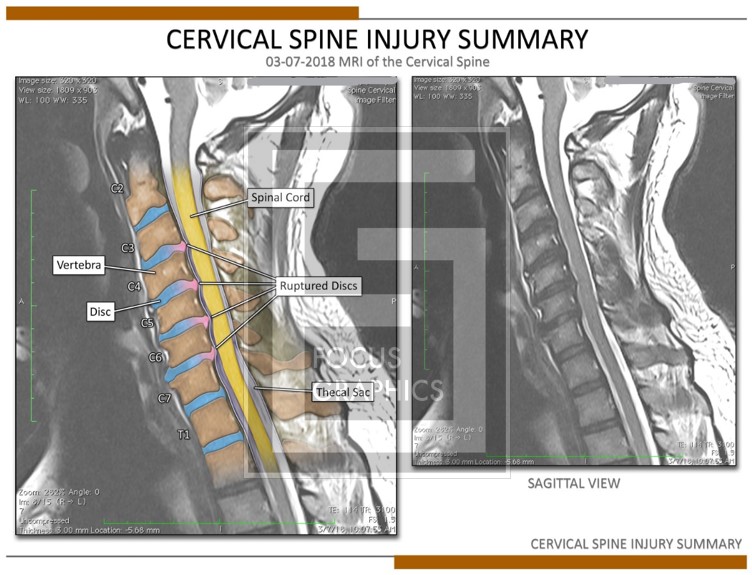 "Having used Focus Graphics for a case previously, I knew that we had to have spot-on graphics for this trial to show how traumatic the injuries suffered by our client were. I reached out to them for lumbar colorizations and an animation, but after reviewing the case, Focus Graphics also recommended adding cervical colorizations. We used these demonstratives in our opening, in our expert testimony, as well as in our closing. The jury loved it! It really helped them, as laypeople, grasp the intricacies of the procedure and understand the pain and suffering our client endured, and will continue to endure, throughout his life. I am already working with Focus Graphics on other cases and I highly recommend them to any attorney looking for an edge at the mediation table or in the courtroom."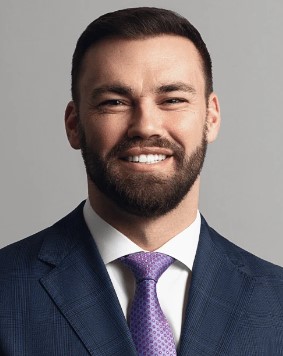 Ready to find out more?
Our team of animators, illustrators and medical professionals are ready to make your demonstratives ready for your next mediation or litigation. Click on the link to the right or give us a call (702) 849-0090.