Medical Illustrations Help Take $0 Offer to 7-figure Settlement
Adam Muslusky and April Bonifatto's client lived the nightmare that happens too often – a commercial vehicle ran a red light, turning left, and slammed into the minivan being driven by their client, crumpling the front end and deploying airbags. The trauma didn't end there, however; the force of the collision sent the minivan into a concrete barrier where the client experienced a second impact. Their client's injuries were severe – traumatic brain injury, as well as spinal injuries resulting in a 4-level cervical fusion and decompression, and laminectomies to L4, L5 and S1, leaving nearly her whole back riddled with large scars. Ms. Bonifatto came to Focus Graphics with a unique request to not only colorize the MRI images, but to create an overlay of the internal and external trauma in order to show the client's whole injury story in one dramatic image. The finished demonstratives were visually striking and helped send home the message Mr. Muslusky and Ms. Bonifatto wanted to get across to the Defense.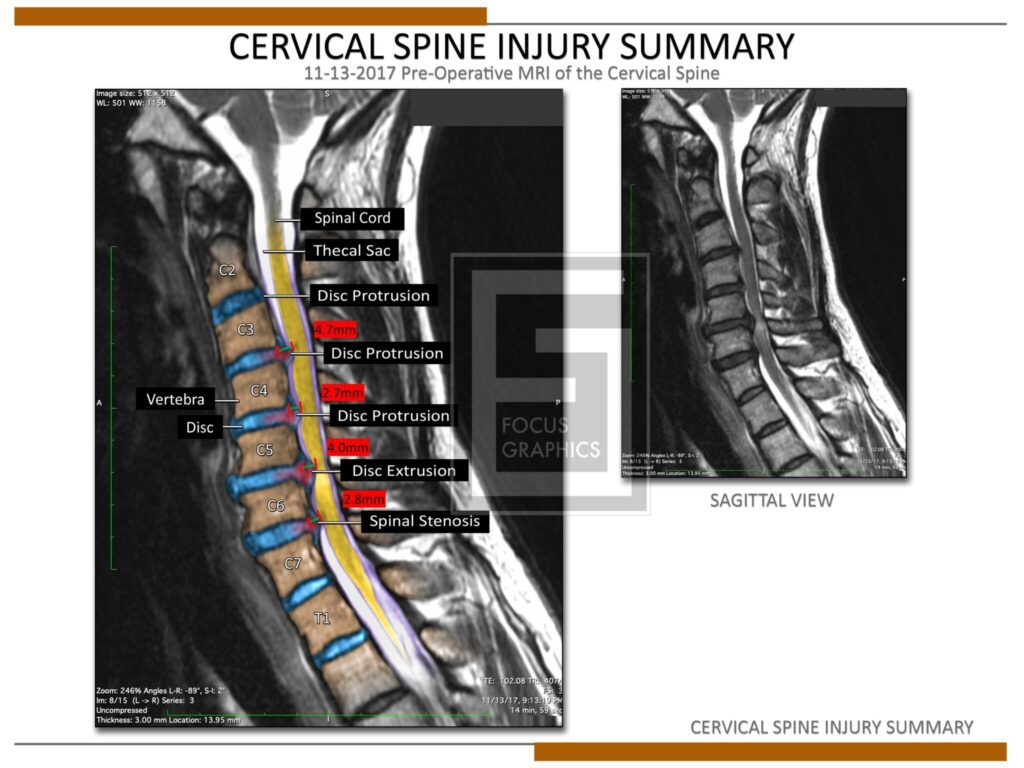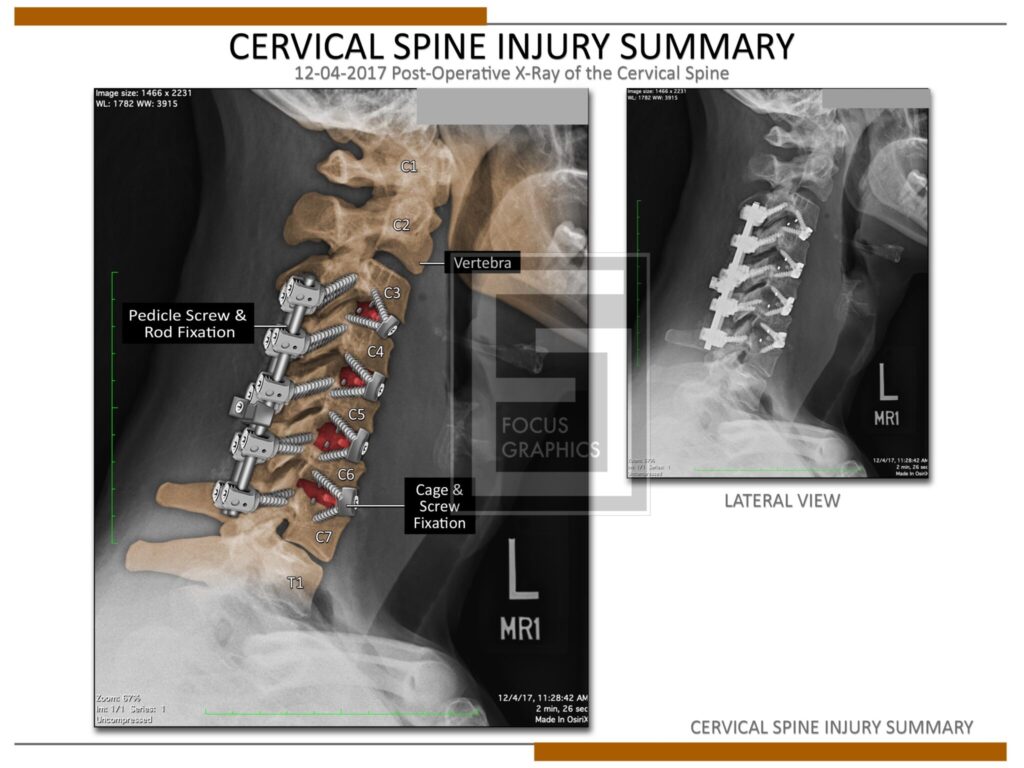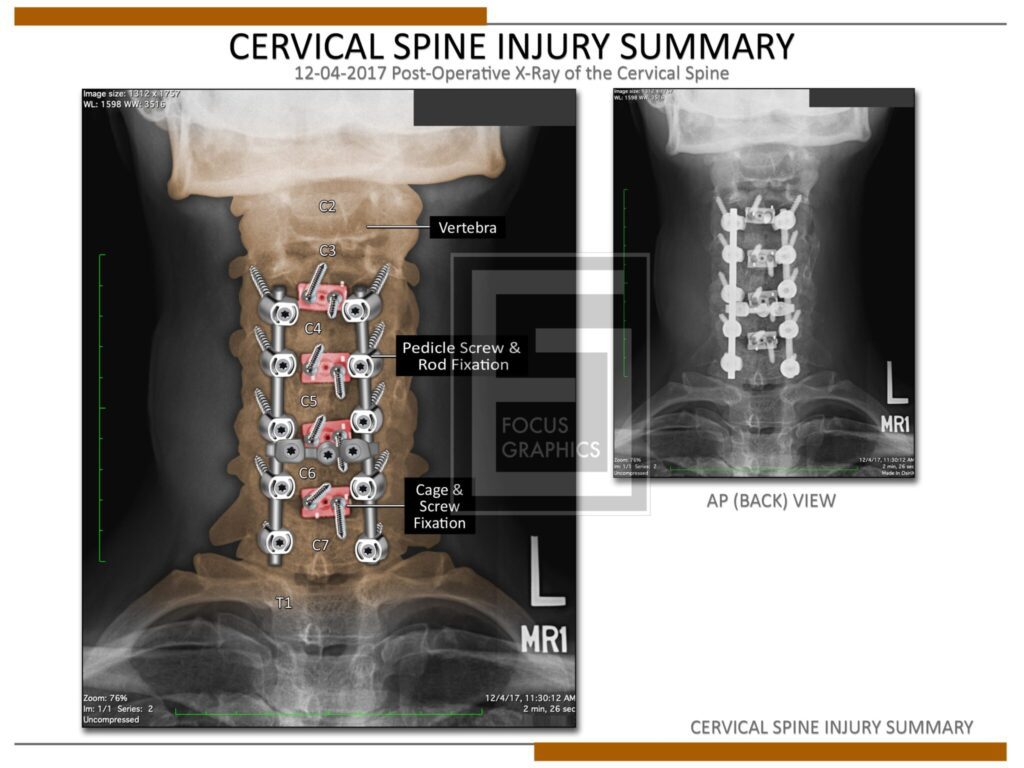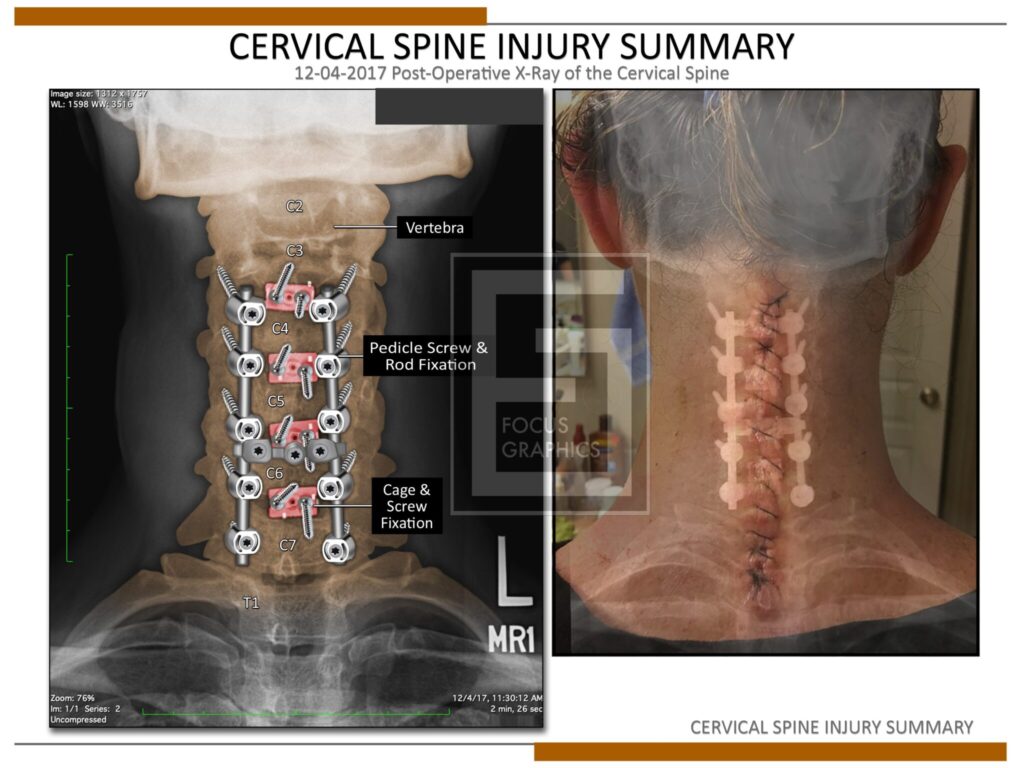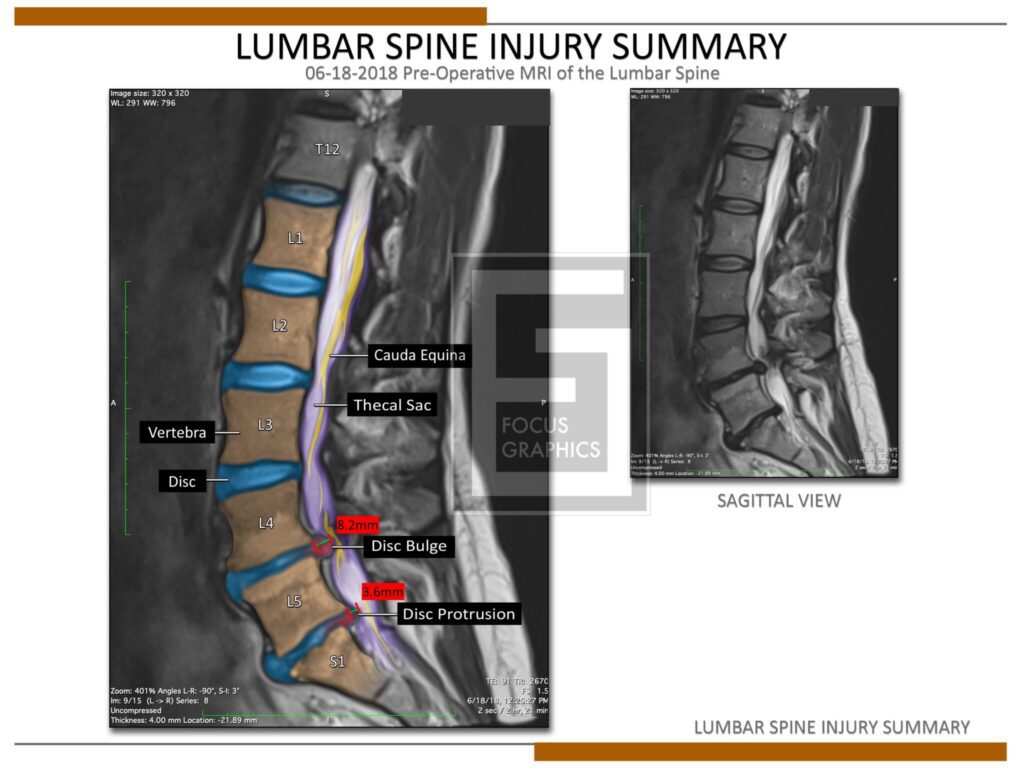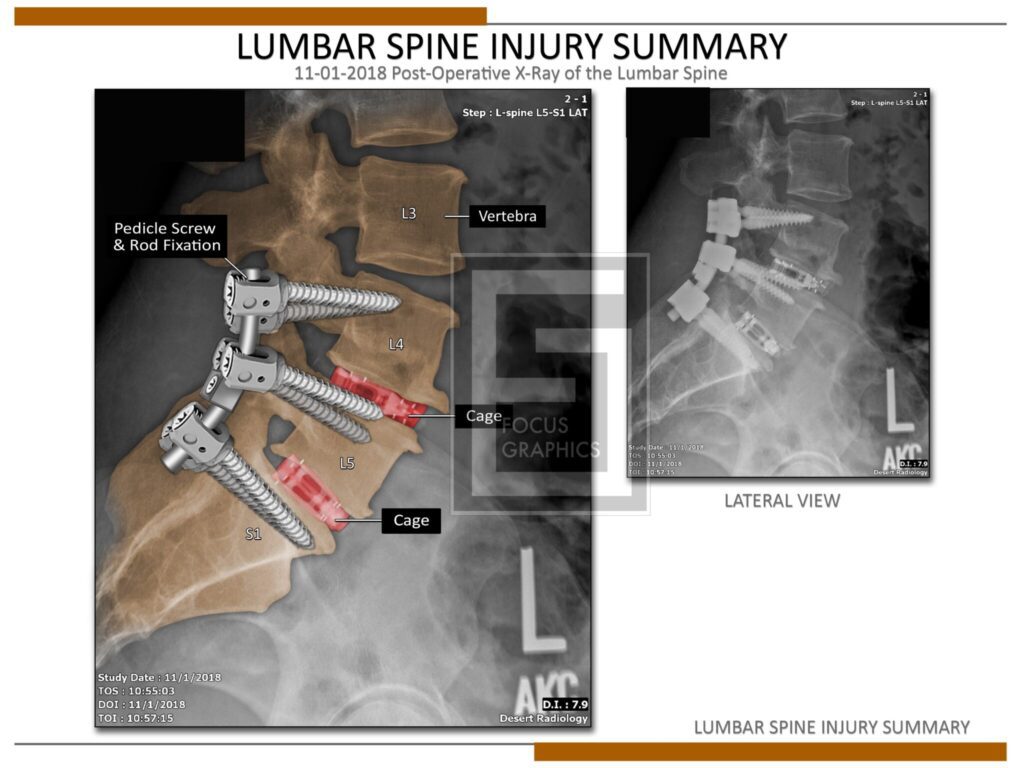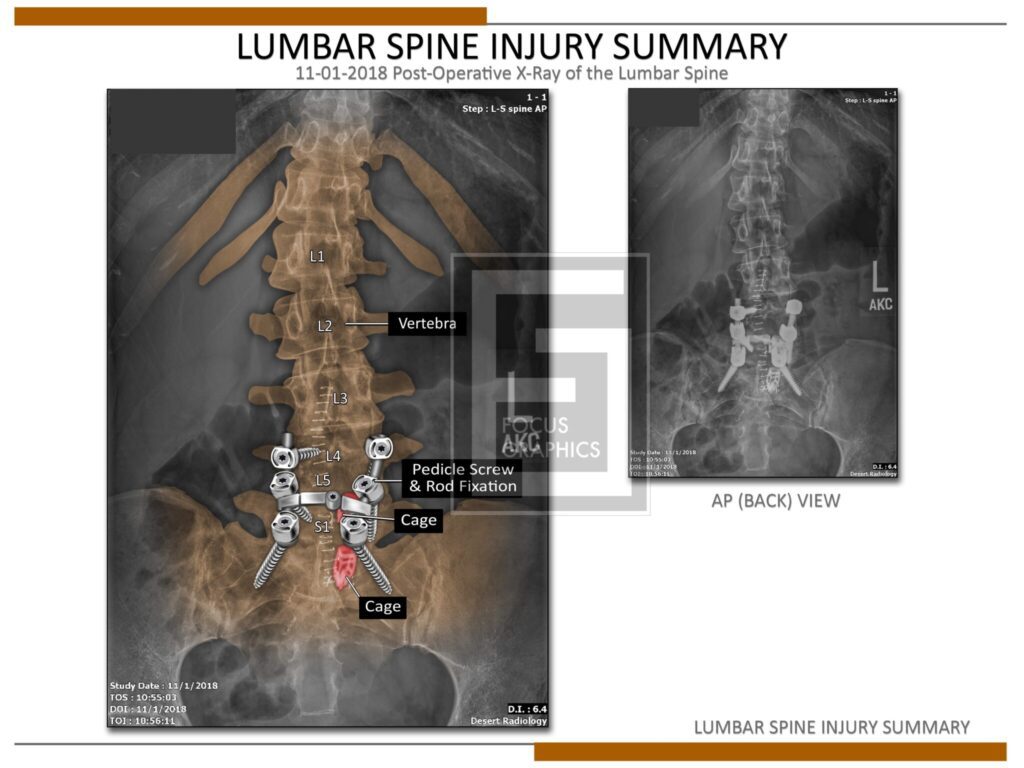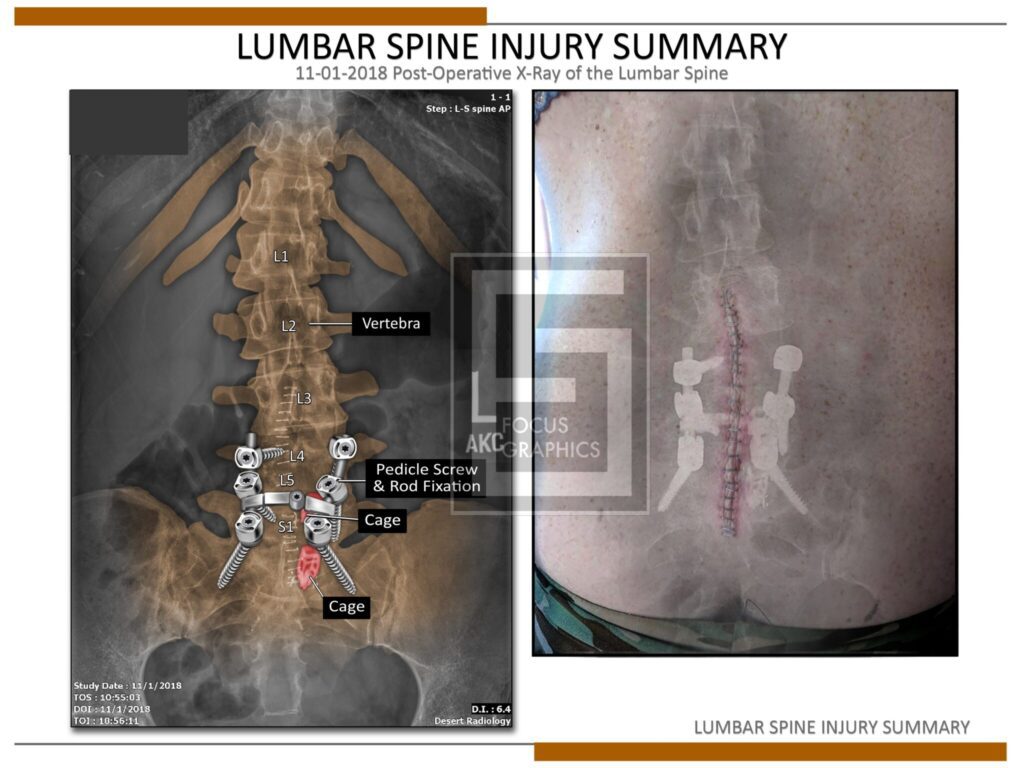 "Focus Graphics deserves the 'purple heart' of animation work for all of their help in this case! I was brought into a T-Bone high speed car collision case, after the Complaint was filed, to take over the litigation on the matter. It appeared the Defendant (and defense counsel) did not understand the extent of the injuries suffered by our client or even how these injuries would present to a jury. Our client (in her late 40s) suffered both extensive cervical and lumbar injuries that resulted in a cervical 4-level fusion and multiple procedures to her lumbar spine in three vertebrae, with placement of hardware in her spine. Externally, our client's scars spanned over 4 inches at BOTH the cervical and lumbar spine, while internally, her spine held a plentiful amount of hardware. I knew we had to put together great illustrations that could not just consist of colorized MRI images. That would be only preparing for an early battle and we wanted to prepare for the war. In our story to the Defendant (and future jury), I felt it was vital to show her injuries on both the inside and the outside because they were equally gruesome! I spoke my vision to Focus Graphics and asked if they could create an overlay of the MRI/XRAY imaging over the photos of her real scars and to also show the internal hardware in one image for each part of her injured spine, and VOILA! Focus Graphics accomplished my visions so superbly and with incredible efficiency that it allowed my firm to give the Defendant its last opportunity to settle within policy limits. Before the matter went to litigation, the Defendant offered $0. After our extensive work in putting a detailed and creatively illustrative demand together, we settled for seven figures."
Las Vegas, NV
Let us bring your case to life…..
Our team of animators, illustrators and medical professionals are ready to make your demonstratives ready for your next mediation or litigation. Click on the link to the right or give us a call (702) 849-0090.