$8M Verdict for Plaintiff Rear-ended by FedEx truck
A rear-end collision involving Benjamin Cloward's client and a FedEx truck finally resolved after 8 years with a jury awarding his client $8M. The collision occurred in 2014 on I-95 when a FedEx driver failed to slow and hit Cloward's client from behind. She suffered severe spinal injuries resulting in years of pain management. The defense was using a later, unrelated car crash Cloward's client was in to deny blame…they admitted liability in the rear-end collision, but claimed that she had mostly recovered from any injuries sustained in the crash with the FedEx truck and that all of her pain was from the other crash months later. When multiple attempts to settle over a 3-year period didn't achieve the $2M minimum that Cloward was asking for, trial was set. They were only $200K apart, with FedEx offering $1.8M, but they would not budge.
With trial approaching, Ben Cloward came to Focus Graphics to create several pain management summaries to illustrate the consistent pain his client had experienced since the collision. We created one each for her cervical, thoracic, and lumbar spine to show the many radiofrequency ablations that were performed on her over a period of 7 years. These were used by the physicians to explain the course of treatment and helped them outline her future treatment, which was a large portion of the verdict. Even during the trial, Cloward gave FedEx another chance to settle for $2M, but they still rejected the offer. Cloward came back to Focus Graphics during the trial to create one more board, this time a pain score timeline, for him to use in closing to offset FedEx's claim that his client didn't start experiencing pain until after her second car accident. Showing his client's high levels of pain had started before that second crash, relieved only with medical intervention on a regular basis and explaining that this was her new normal for the rest of her life, was helpful for the jury to make their award decision of $8M, nearly 4.5 times the original offer from FedEx.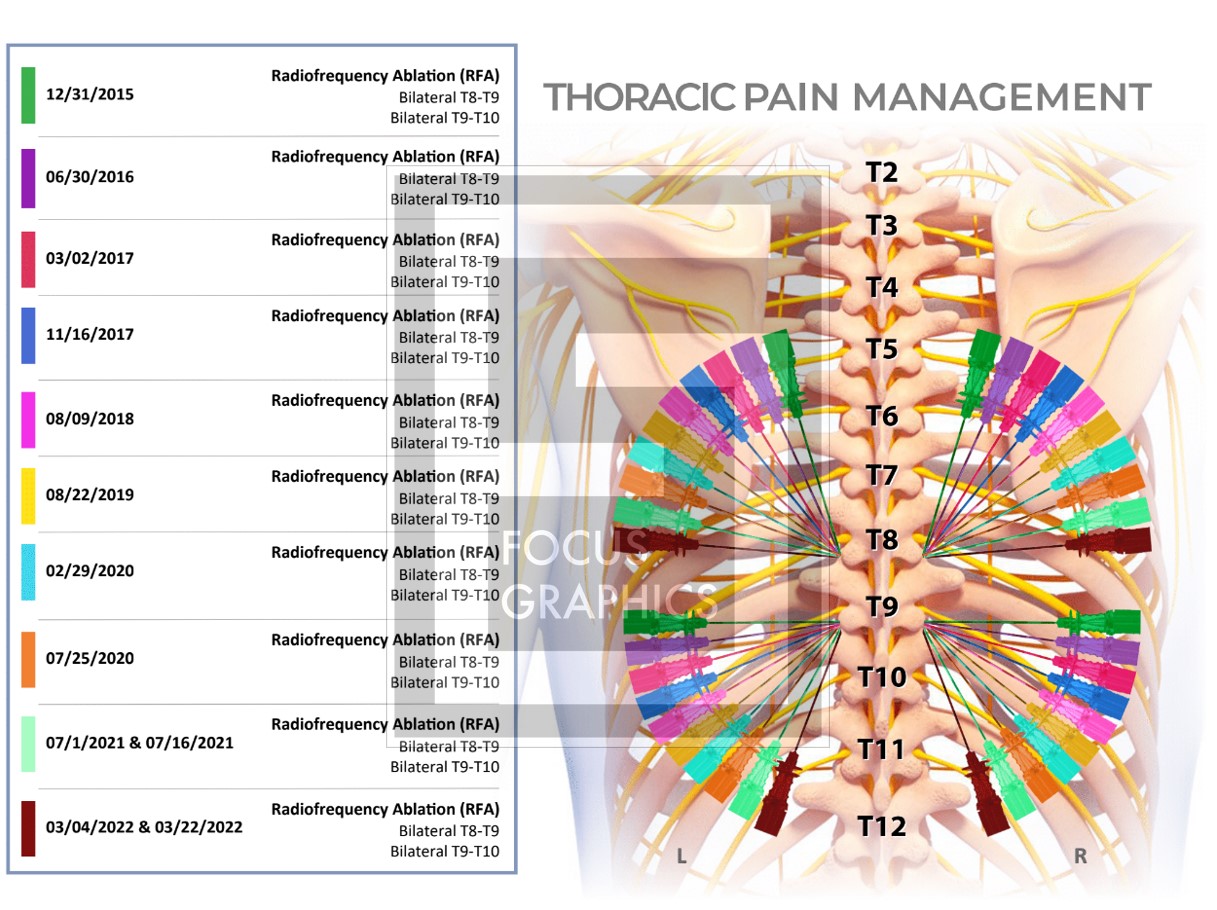 ~Benjamin Cloward, Esq., Las Vegas, NV | Richard Harris Law Firm
READY TO FIND OUT MORE?
Our team of animators, illustrators and medical professionals are ready to make your demonstratives ready for your next mediation or litigation. Click on the Request a Quote link below or give us a call at (702) 849-0090.