Monster $200M Verdict in Insurance Bad Faith Case
Doctors take an oath to do no harm, but what happens when their intent is curbed by big business in the form of health insurance companies? For Doug Terry and Matt Sharp, their client suffered the ultimate loss…the death of a loved one because the insurance company, Sierra Health & Life (SHL), wouldn't cover the recommended medical procedure. His client's husband had been diagnosed with lung cancer and, in Feb 2016, his world-renowned radiation oncologist recommended a type of radiation therapy called proton beam therapy. SHL had a hidden medical policy written by corporate bureaucrats that was illegally used to conclude that any claim for proton beam therapy for lung cancer, and many other types of cancer, would automatically be denied for lack of medical necessity. SHL denied the preauthorization request for proton beam therapy without consideration of the insurance contract and without investigation.
The client's husband was instead forced to undergo an alternative radiation therapy called IMRT, or photon therapy. This therapy caused a serious injury to his esophagus. Over the next year of his life, he suffered tremendously. He could not eat consistently; food got stuck in his throat, and the inability to eat impacted other aspects of his health. At trial, the family testified about how he withdrew and became isolated as he suffered from the complications of esophagitis and was burdened with the knowledge that a bureaucrat decided he knew more than a world-renowned doctor. He died in March 2017 from the cancer and reasons unrelated to the IMRT.
Through discovery, the attorney team uncovered a systematic claims process where SHL automatically denied claims without consideration of the duty of good faith and fair dealing and with knowledge that insureds would suffer and even die. SHL's defense was essentially that SHL needed to engage in managed care to keep insurance affordable and while the client's husband suffered from lung cancer, he was not injured by the IMRT. Mr. Sharp and Mr. Terry came to Focus Graphics to create an exhibit that would compare proton and photon therapies to show that he was, in fact, injured by the alternative therapy. Through discussions between the expert and our artist where the expert explained his vision of what he would like to present in the trial, that single exhibit became a whole presentation showing the anatomy of his chest, how proton therapy would have exposed him to radiation, how IMRT did expose him, and a comparison of the two to clearly show the damaging effect to his esophagus.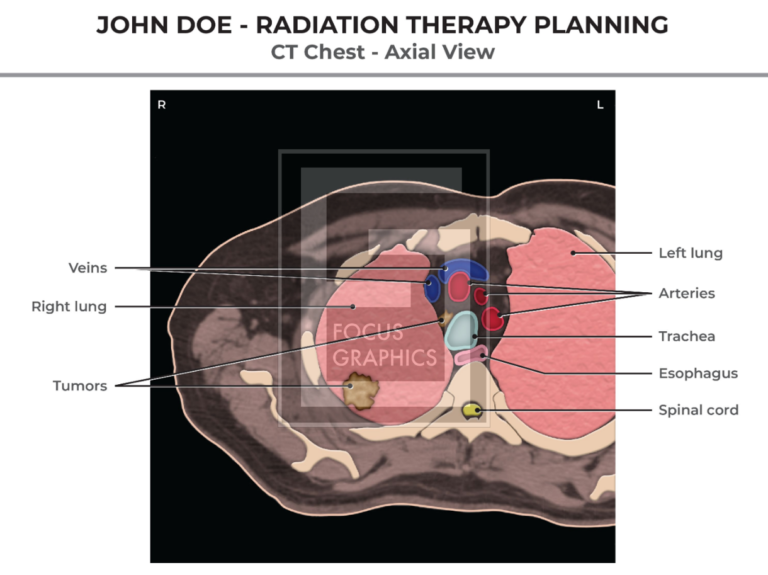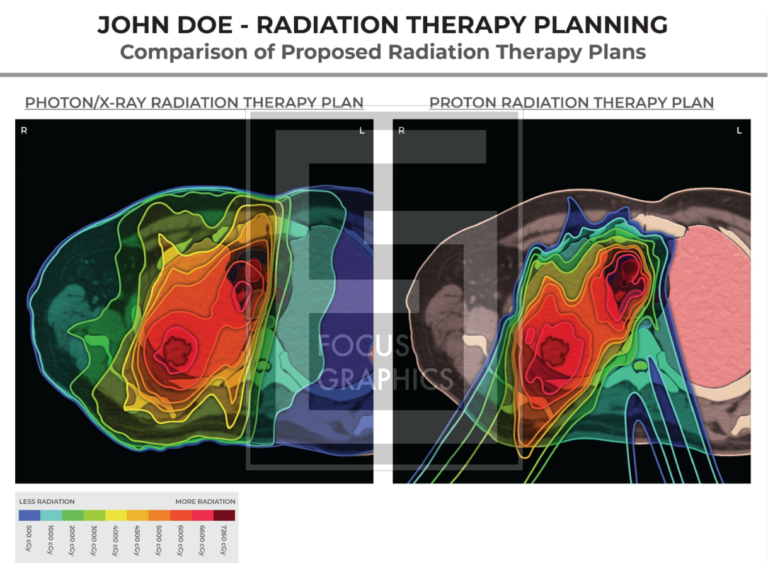 "We filed this case as a survival action. The jury returned a compensatory award of $40,000,000 for the pain, mental suffering, loss of enjoyment of life, and emotional distress. The award reflects the reasoned judgment of what pain and suffering really means when an insurance company takes away your dignity in your last days on this earth; dignity you can never get back. It goes back to what Moe Levine said: it is not what the defendant took from your client that matters; it is what the defendant left your client with that matters. SHL left him with nothing but a shell of himself.
The jury awarded $160,000,000 in punitive damages. The award reflects the reasoned judgment of what was necessary to punish and deter an insurance company who deliberately did what it did to its insured for money and with the conscious belief that it was above the law. We can't say enough about the Focus Graphics team who helped our expert create compelling demonstrative exhibits that gave a visual to the jury to show the difference in the two therapies. We highly recommend working with them on any case, big or small."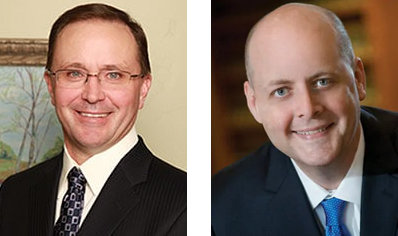 Ready to find out more?
Our team of animators, illustrators and medical professionals are ready to make your demonstratives ready for your next mediation or litigation. Click on the link to the right or give us a call (702) 849-0090.