How much should I budget on case costs?
By Sean Claggett
Sean Claggett, founding partner of Claggett & Sykes Law Firm, is one of the most successful trial attorneys in the country. A 2003 graduate of UNLV's William S. Boyd School of Law, Sean was honored as Alumni of the Year by the Boyd School of Law in 2010; has been recognized by Legal Aid of Southern Nevada for his Pro Bono work; and was selected by his peers as Nevada Trial Lawyer of the Year in 2017.  Sean was also named to Courtroom View Network's 2020 "Who We're Watching" list and currently serves as an adjunct professor in Law Practice Management at UNLV Boyd School of Law. He is frequently sought after to consult or join as co-counsel on cases proceeding to trial due to his extensive experience and success at trial.
---
Many attorneys have inquired how much they should budget for costs on a case. Ideally, we would recommend attempting to keep your costs below ten percent (10%) of the settlement valuation you have placed on the case. Clearly this is not always possible, as we have all had that case where we have spent way more than ten percent (10%) in costs versus the valuation of the case. While the overspending may happen to us on rare occasions, the problem seen with many plaintiff attorneys is that they fail to spend the money necessary to drive the value of their cases. For example, for less than $500, an attorney can have an effective medical illustration drawn to show, in stark detail, their client's injuries, and the medical illustration will often have the impact of driving up the value of your case at mediation because the insurance adjuster will see that you are ready to present your case to a jury. Despite the low costs associated with medical illustrations, all too often attorneys don't spend a dime on their demonstratives, and it ultimately costs them a lot of money. When you think about what we all pay the typical medical expert, at least $10,000 and frequently more, it is hard to understand why you would not provide your high paid medical expert with the medical illustrations they need to bring their testimony to life in front of the jury.
There are plenty of instances where spending a little will result in a verdict that is many times greater than the initial offer amount. Who wouldn't spend $1000 to get four, or fifteen, or thirty times what the defense offered during pre-trial? It's leaving money on the table to not include demonstratives in your case budget.
Whether you believe your case is worth $1,000,000 and you have a budget of $100,000 on costs, or you believe your case is worth $100,000 and you have a budget of $10,000 to spend on costs, Focus Graphics can provide you with medical illustrations and animations that will drive up the value of your case.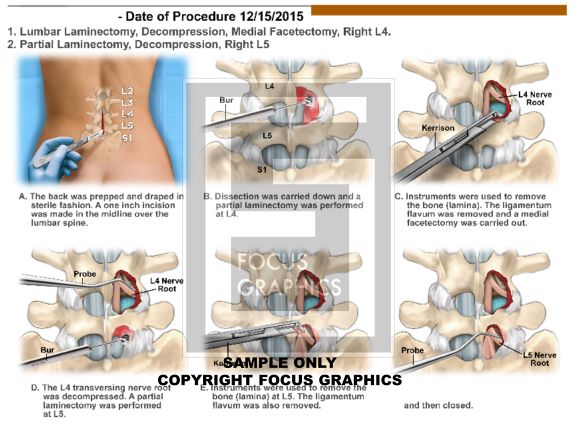 Medical Illustration of Lumbar Laminectomy
READY TO FIND OUT MORE?
Our team of animators, illustrators and medical professionals are ready to make your demonstratives ready for your next mediation or litigation. Click on the Request a Quote link below or give us a call at (702) 849-0090.